Norwegian Journal of Entomology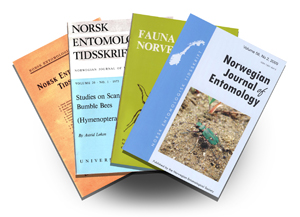 The Norwegian Journal of Entomology (ISSN 1501-8415) is the scientific publication of the Norwegian Entomological Society. The journal is issued twice a year and publishes original papers and reviews on taxonomy, faunistics, zoogeography, and general and applied ecology of insects and related terrestrial arthropods. The journal is published in English.

NJE is a continuation of Fauna Norvegica Serie B (1979-1998), Norwegian Journal of Entomology (1975-1978), and Norsk entomologisk Tidsskrift (1921-1974). With its long tradition, the journal provides important documentation of the Norwegian fauna over time for future research and management.

---
Issues
Supplements

<! 2021 - Volume 68, Issue 2 + Issue 1 >
2021 - Vol. 68
Issue 1
Full-text
Issue 2
Full-text
<! 2020 - Volume 67, Issue 2 + Issue 1 >
2020 - Vol. 67
Issue 1
Full-text
Issue 2
Full-text
<! 2019 - Volume 66, Issue 2 + Issue 1 >
2019 - Vol. 66
Issue 1
Full-text
Issue 2
Full-text
<! 2018 - Volume 65, Issue 2 + Issue 1 >
2018 - Vol. 65
Issue 1
Full-text
Issue 2
Full-text
<! 2017 - Volume 64, Issue 2 + Issue 1 >
2017 - Vol. 64
Issue 1
Full-text
Issue 2
Full-text
<! 2016 - Volume 63, Issue 2 + Issue 1 >
2016 - Vol. 63
Issue 1
Full-text
Issue 2
Full-text
<! 2015 - Volume 62, Issue 2 + Issue 1 >
2015 - Vol. 62
Issue 1
Full-text
Issue 2
Full-text
<! 2014 - Volume 61, Issue 2 + Issue 1 >
2014 - Vol. 61
Issue 1
Full-text
Issue 2
Full-text
<! 2013 - Volume 60, Issue 2 + Issue 1 >
2013 - Vol. 60
Issue 1
Full-text
Issue 2
Full-text
<! 2012 - Volume 59, Issue 2 + Issue 1 >
2012 - Vol. 59
Issue 1
Full-text
Issue 2
Full-text
<! 2011 - Volume 58, Issue 2 + Issue 1 >
2011 - Vol. 58
Issue 1
Full-text
Issue 2
Full-text
<! 2010 - Volume 57, Issue 2 + Issue 1 >
2010 - Vol. 57
Issue 1
Full-text
Issue 2
Full-text
<! 2009 - Volume 56, Issue 2 + Issue 1 >
2009 - Vol. 56
Issue 1
Full-text
Issue 2
Full-text
<! 2008 - Volume 55, Issue 2 + Issue 1 >
2008 - Vol. 55
Issue 1
Full-text
Issue 2
Full-text
<! 2007 - Volume 54, Issue 2 + Issue 1 >
2007 - Vol. 54
Issue 1
Full-text
Issue 2
Full-text
<! 2006 - Volume 53, Issue 2 + Issue 1 >
2006 - Vol. 53
Issue 1
Abs. / Full.
Issue 2


Abs.

/ Full.
<! 2005 - Volume 52, Issue 2 + Issue 1 >
2005 - Vol. 52
Issue 1
Abs. / Full.
Issue 2
Abs. / Full.
<! 2004 - Volume 51, Issue 2 + Issue 1 >
2004 - Vol. 51
Issue 1
Abs. / Full.
Issue 2
Abs. / Full.
<! 2003 - Volume 50, Issue 2 + Issue 1 >
2003 - Vol. 50
Issue 1
Abs. / Full.
Issue 2
Abs. / Full.
<! 2002 - Volume 49, Issue 2 + Issue 1 >
2002 - Vol. 49
Issue 1
Abs. / Full.
Issue 2
Abs. / Full.
<! 2001 - Volume 48, Issue 2 + Issue 1 >
2001 - Vol. 48
Issue 1
Abs. / Full.
Issue 2
Abs. / Full.
<! 2000 - Volume 47, Issue 2 + Issue 1 >
2000 - Vol. 47
Issue 1
Abs. / Full.
Issue 2
Abs. / Full.
<! 1999 - Volume 46, Issue 2 + Issue 1 >
1999 - Vol. 46
Issue 1
Abs. / Full.
Issue 2
Abs. / Full.
<! 1998 - Volume 45, Issues 1-2 >
1998 - Vol. 45
Issues 1-2
Full-text
<! 1997 - Volume 44, Issue 2 + Issue 1 >
1997 - Vol. 44
Issue 1
Full-text
Issue 2
Full-text
<! 1996 - Volume 43, Issue 2 + Issue 1 >
1996 - Vol. 43
Issue 1
Full-text
Issue 2
Full-text
<! 1995 - Volume 42, Issue 2 + Issue 1 >
1995 - Vol. 42
Issue 1
Full-text
Issue 2
Full-text
<! 1994 - Volume 41, Issue 2 + Issue 1 >
1994 - Vol. 41
Issue 1
Full-text
Issue 2
Full-text
<! 1993 - Volume 40, Issue 2 + Issue 1 >
1993 - Vol. 40
Issue 1
Full-text
Issue 2
Full-text
<! 1992 - Volume 39, Issue 2 + Issue 1 >
1992 - Vol. 39
Issue 1
Full-text
Issue 2
Full-text
<! 1991 - Volume 38, Issue 2 + Issue 1 >
1991 - Vol. 38
Issue 1
Full-text
Issue 2
Full-text
<! 1990 - Volume 37, Issue 2 + Issue 1 >
1990 - Vol. 37
Issue 1
Full-text
Issue 2
Full-text
<! 1989 - Volume 36, Issue 2 + Issue 1 >
1989 - Vol. 36
Issue 1
Full-text
Issue 2
Full-text
<! 1988 - Volume 35, Issue 2 + Issue 1 >
1988 - Vol. 35
Issue 1
Full-text
Issue 2
Full-text
<! 1987 - Volume 34, Issue 2 + Issue 1 >
1987 - Vol. 34
Issue 1
Full-text
Issue 2
Full-text
<! 1986 - Volume 33, Issue 2 + Issue 1 >
1986 - Vol. 33
Issue 1
Full-text
Issue 2
Full-text
<! 1985 - Volume 32, Issue 2 + Issue 1 >
1985 - Vol. 32
Issue 1
Full-text
Issue 2
Full-text
<! 1984 - Volume 31, Issue 2 + Issue 1 >
1984 - Vol. 31
Issue 1
Full-text
Issue 2
Full-text
<! 1983 - Volume 30, Issue 2 + Issue 1 >
1983 - Vol. 30
Issue 1
Full-text
Issue 2
Full-text
<! 1982 - Volume 29, Issue 2 + Issue 1 >
1982 - Vol. 29
Issue 1
Full-text
Issue 2
Full-text
<! 1981 - Volume 28, Issue 2 + Issue 1 >
1981 - Vol. 28
Issue 1
Full-text
Issue 2
Full-text
<! 1980 - Volume 27, Issues 1-2 >
1980 - Vol. 27
Issues 1-2
Full-text
<! 1979 - Volume 26, Issue 2 + Issue 1 >
1979 - Vol. 26
Issue 1
Full-text
Issue 2
Full-text
<! 1978 - Volume 25, Issue 2 + Issue 1 >
1978 - Vol. 25
Issue 1
Full-text
Issue 2
Full-text
<! 1977 - Volume 24, Issue 2 + Issue 1 >
1977 - Vol. 24
Issue 1
Full-text
Issue 2
Full-text
<! 1976 - Volume 23, Issue 2 + Issue 1 >
1976 - Vol. 23
Issue 1
Full-text
Issue 2
Full-text
<! 1975 - Volume 22, Issue 2 + Issue 1 >
1975 - Vol. 22
Issue 1
Full-text
Issue 2
Full-text
<! 1974 - Volume 21, Issue 2 + Issue 1 >
1974 - Vol. 21
Issue 1
Full-text
Issue 2
Full-text
<! 1973 - Volume 20, Issues 1-3 >
1973 - Vol. 20
Issue 1
Full-text
Issue 2
Full-text
Issue 3
Full-text
<! 1972 - Volume 19, Issue 2 + Issue 1 >
1972 - Vol. 19
Issue 1
Full-text
Issue 2
Full-text
<! 1971 - Volume 18, Issue 2 + Issue 1 >
1971 - Vol. 18
Issue 1
Full-text
Issue 2
Full-text
<! 1970 - Volume 17, Issue 2 + Issue 1 >
1970 - Vol. 17
Issue 1
Full-text
Issue 2
Full-text
<! 1969 - Volume 16, Issue 2 + Issue 1 >
1969 - Vol. 16
Issue 1
Full-text
Issue 2
Full-text
<! 1968 - Volume 15, Issue 2 + Issue 1 >
1968 - Vol. 15
Issue 1
Full-text
Issue 2
Full-text
<! 1967 - Volume 14, Issue 2 + Issue 1 >
1967 - Vol. 14
Issue 1
Full-text
Issue 2
Full-text
<! 1966 - Volume 13, Issue 4 + Issue 3 >
1966 - Vol. 13
Issue 3
Full-text
Issue 4
Full-text
<! 1965 - Volume 13, Issues I-s + Issues 1-2 >
1965 - Vol. 13
Issues 1-2
Full-text
<! 1964 - Volume 12, Issues I-s + Issues 5-8 >
1964 - Vol. 12
Issues 5-8
Full-text
<! 1963 - Volume 12, Issues I-s + Issues 3-4 >
1963 - Vol. 12
Issues 3-4
Full-text
<! 1962 - Volume 12, Issues I-s + Issues 1-2 >
1962 - Vol. 12
Issues 1-2
Full-text
<! 1961 - Volume 11, Issues I-s + Issues 5-6 >
1961 - Vol. 11
Issues 5-6
Full-text
<! 1960 - Volume 11, Issues I-s + Issues 3-4 >
1960 - Vol. 11
Issues 3-4
Full-text
<! 1959 - Volume 11, Issues I-s + Issues 1-2 >
1959 - Vol. 11
Issues 1-2
Full-text
<! 1958 - Volume 10, Issues I-s + Issues 4-5 >
1958 - Vol. 10
Issues 4-5
Full-text
<! 1957 - Volume 10, Issues I-s + Issues 2-3 >
1957 - Vol. 10
Issues 2-3
Full-text
<! 1956 - Volume 10, Issues I-s + Issue 1 >
1956 - Vol. 10
Issue 1
Full-text
<! 1955 - Volume 9, Issues I-s + Issues 3-4 >
1955 - Vol. 9
Issues 3-4
Full-text
<! 1953 - Volume 9, Issues I-s + Issues 1-2 >
1953 - Vol. 9
Issues 1-2
Full-text
<! 1951 - Volume 8, Issues I-s + Issues 4-5 >
1951 - Vol. 8
Issues 4-5
Full-text
<! 1950 - Volume 8, Issues I-s + Issues 1-3 >
1950 - Vol. 8
Issues 1-3
Full-text
<! 1946 - Volume 7, Issues I-s + Issue 5 >
1946 - Vol. 7
Issue 5
Full-text
<! 1945 - Volume 7, Issues I-s + Issues 3-4 >
1945 - Vol. 7
Issues 3-4
Full-text
<! 1944 - Volume 7, Issues I-s + Issues 1-2 >
1944 - Vol. 7
Issues 1-2
Full-text
<! 1943 - Volume 6, Issues I-s + Issues 4-5 >
1943 - Vol. 6
Issues 4-5
Full-text
<! 1942 - Volume 6, Issues I-s + Issues 2-3 >
1942 - Vol. 6
Issues 2-3
Full-text
<! 1941 - Volume 6, Issues I-s + Issue 1 >
1941 - Vol. 6
Issue 1
Full-text
<! 1940 - Volume 5, Issues I-s + Issue 4 >
1940 - Vol. 5
Issue 4
Full-text
<! 1938 - Volume 5, Issue 3 + Issue 2 >
1938 - Vol. 5
Issue 2
Full-text
Issue 3
Full-text
<! 1937 - Volume 5, Issues I-s + Issue 1 >
1937 - Vol. 5
Issue 1
Full-text
<! 1937 - Volume 4, Issues I-s + Issue 4 >
1937 - Vol. 4
Issue 4
Full-text
<! 1936 - Volume 4, Issues I-s + Issue 3 >
1936 - Vol. 4
Issue 3
Full-text
<! 1935 - Volume 4, Issues I-s + Issues 1-2 >
1935 - Vol. 4
Issues 1-2
Full-text
<! 1935 - Volume 3, Issues I-s + Issue 6 >
1935 - Vol. 3
Issue 6
Full-text
<! 1934 - Volume 3, Issues I-s + Issue 5 >
1934 - Vol. 3
Issue 5
Full-text
<! 1933 - Volume 3, Issue 4 + Issue 3 >
1933 - Vol. 3
Issue 3
Full-text
Issue 4
Full-text
<! 1932 - Volume 3, Issues I-s + Issues 1-2 >
1932 - Vol. 3
Issues 1-2
Full-text
<! 1930 - Volume 2, Issues I-s + Issue 6 >
1930 - Vol. 2
Issue 6
Full-text
<! 1928 - Volume 2, Issues I-s + Issue 5 >
1928 - Vol. 2
Issue 5
Full-text
<! 1927 - Volume 2, Issues I-s + Issue 4 >
1927 - Vol. 2
Issue 4
Full-text
<! 1927 [1926] - Volume 2, Issues I-s + Issue 3 >
1927 (1926) - Vol. 2
Issue 3
Full-text
<! 1926 [1925] - Volume 2, Issues I-s + Issue 2 >
1926 (1925) - Vol. 2
Issue 2
Full-text
<! 1925 [1924] - Volume 2, Issues I-s + Issue 1 >
1925 (1924) - Vol. 2
Issue 1
Full-text
<! 1923 - Volume 1, Issues I-s + Issue 5 >
1923 - Vol. 1
Issue 5
Full-text
<! 1922 - Volume 1, Issue 4 + Issue 3 >
1922 - Vol. 1
Issue 3
Full-text
Issue 4
Full-text
<! 1921 - Volume 1, Issues I-s + Issue 2 >
1921 - Vol. 1
Issue 2
Full-text
<! 1920 - Volume 1, Issues I-s + Issue 1 >
1920 - Vol. 1
Issue 1
Full-text